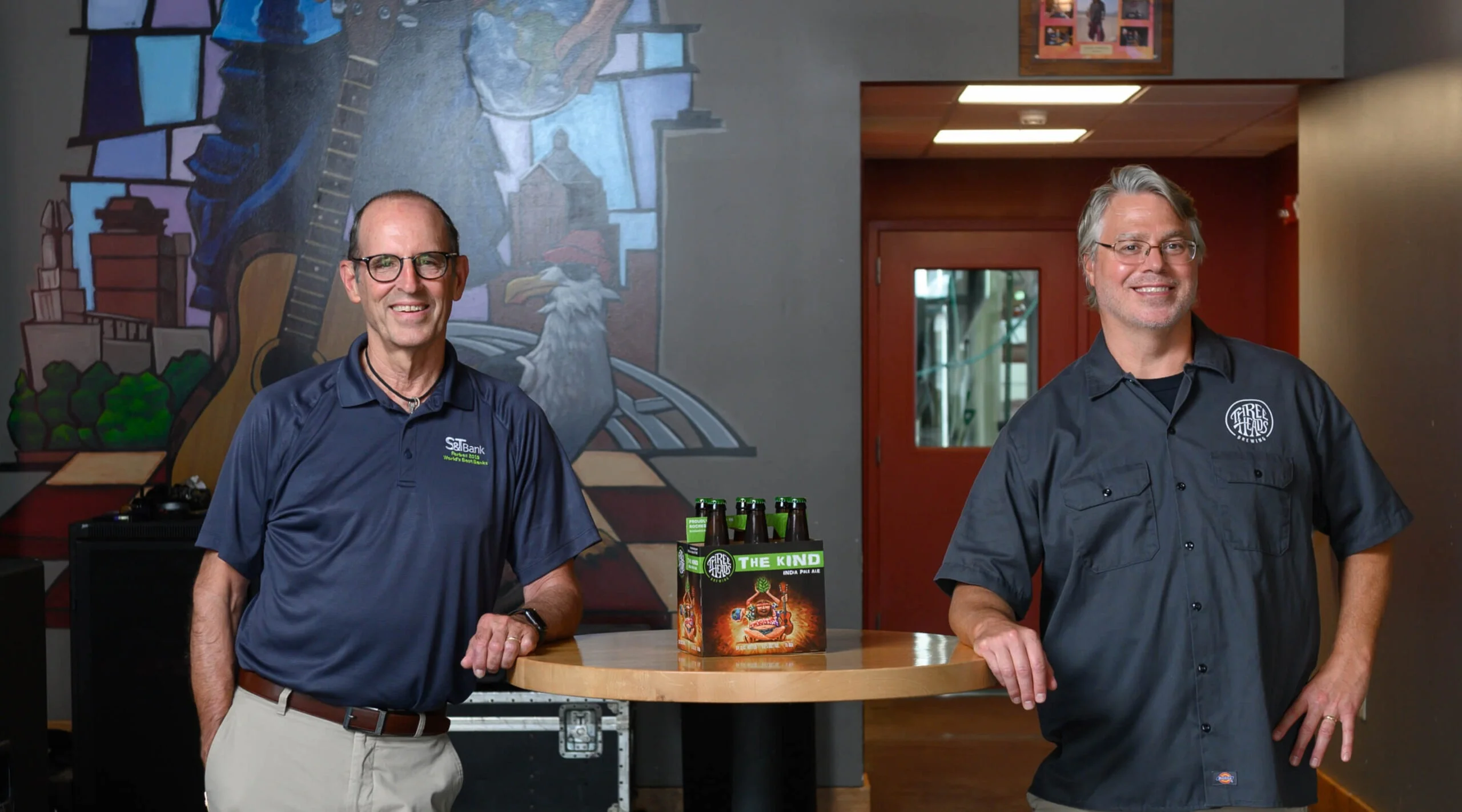 Three Heads Brewing
"I truly believe that my relationship with S&T Bank, and our ability to get funding quickly, kept our business afloat."
Three Heads Brewing Inc. is known for its fun atmosphere and exceptional beer. What started as a contract brewing business has grown to include a $4 million facility that opened in the summer of 2016. They have increased sales by approximately 300% and staff 13 full-time and 16 part-time employees. Three Heads Brewing products can be found in retail stores, bars and restaurants throughout western and central New York, and offer a successful tasting room featuring live music three nights a week. That all came to screeching halt in the spring of 2020.
Daniel Nothnagle, President of Three Heads Brewing commented "The immediate impact of the Coronavirus was devastating to production breweries and the hospitality industry. The shuttering of bars and restaurants immediately eliminated 45% of our distribution sales. Our flagship brand, The Kind India Pale Ale, is the #1 craft draft beer in the Rochester region. With this closure, half of our production of this beer was eliminated. It must be noted that keg sales into distribution are more profitable than package sales, i.e. bottles and cans, as packaging materials are costly. Additionally, the closing of our own tap room removed not only 30% of our revenue stream, but also our only high margin sales – pints of beer. We were forced to lay off 19 employees, which has caused our unemployment payments to explode and were left with sales to retail outlets like grocery and convenience stores as our primary source of revenue, by far our lowest profit margin.
"The Federal Government's announcement of the PPP loan program was a lifeline to our business. The communication with the local branch of S&T Bank was exceptional. I was kept informed while the program was being announced and had all the necessary paperwork completed and submitted when the loans became available. In fact, I had a check in hand the first Friday after the program opened. And while we were a little late with one month's rent, this loan allowed us to not miss any payroll commitments or other payments. I truly believe that my relationship with S&T Bank and our ability to get funding quickly kept our business afloat.
"As time progressed, some restrictions on our industry were relaxed, so we began to not only sell more products to go, we were allowed to have beer delivered to home addresses. When outdoor dining was allowed, we could not only open our patio, but started to see sales to bars and restaurants increase. This has allowed us to ramp up production and return a handful of employees to the payroll."
Learn more about Three Heads Brewing Company.