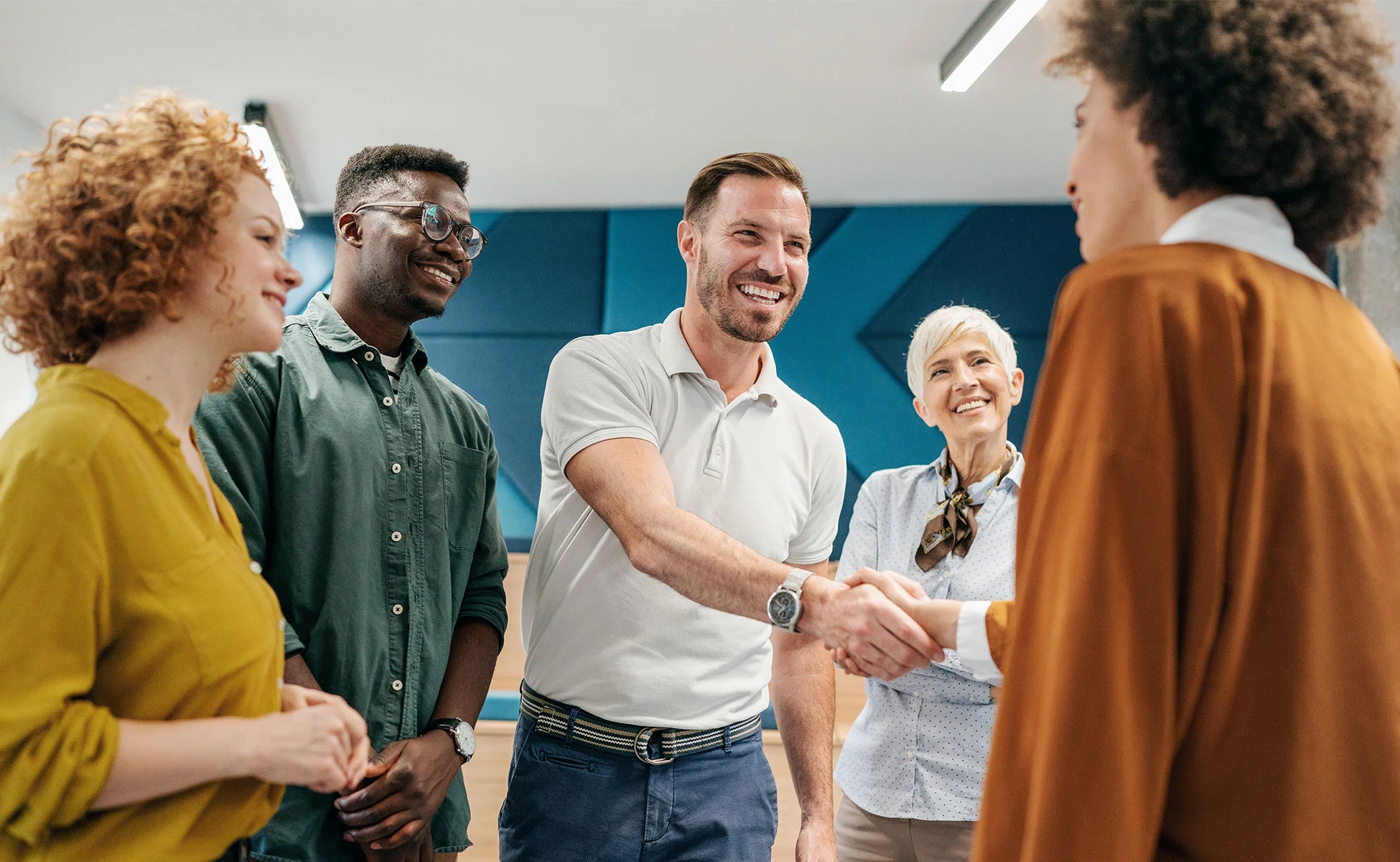 BUSINESS
Deluxe Hiring and Retention Guide
HR Guide to Hiring and Retaining Top Employees
From the pre-recruitment search to the post-interview follow ups, experienced HR professional, Marisa Stribling, offers her insights and advice on how your business can successfully recruit and hire great employees from start to finish. Dedicating the time to recruit and hire properly will benefit your company with reduced turnover, increased productivity, and decreased struggle with underperforming employees.
Stage One: The prep
Once you've determined your list of potential candidates, it's now time to identify your interview structure. There are several factors to consider, including:
• Who from your company is involved in interviewing?
• Where will the interviews take place—virtual or in-person?
• How many people per interview (panel-style or one-on-one)?
• How many interviews will take place before you make your decision?
• What interview style is best for your company: standard, situational, or behavioral?
Prepare for a successful interview by taking the time needed to internally prepare with questions and necessary documents. Each interviewer should have a copy of the applicant's resume', perhaps their cover letter and application, and the job description to help keep the interview focused on the important pieces of the role. Lastly, make sure your interviewers confirm the time and date of the interview to avoid scheduling conflicts.
Experts strongly recommend preparing five or six interview questions ahead of time. This will help you feel more prepared for the interview itself so that you can give the candidate your undivided attention. This will also help you cover everything you want to discuss and be able to interview in a consistent way.
Stage Two: The interview- ask open-ended questions
As a best practice, use open-ended questions to allow your candidate to give you a better sense of who they are. For example, "Are you organized?" will get a different, less job applicable response than, "How would you describe your work style?". Other sample questions include:
• How would your coworkers describe your work ethic?
• How do you best manage your time and priorities?
• Describe a time when you needed to work through a conflict with a client.
Keep your questions job focused
It's important to ask the right kinds of questions in the interview process to keep the conversation focused on the job at hand. It's easy to stray into troublesome waters with interview questions—even when you think you're basing questions on legitimate job factors. For example, you might want to ask about scheduling availability. To do this, you don't want to ask questions like, "Do you have reliable childcare?". Instead, you want to define and emphasize what you need in terms of scheduling availability, and then ask the candidate if they're able to meet those requirements. Asking a candidate about their childcare could easily be perceived as discriminatory.
Stage Three: The follow up- reference check
Now that your potential candidate has made it through the interview process, it's time to check their references. A hiring best practice is to contact at least one manager and one coworker for each candidate. Keep your questions strictly to the job duties required, the potential hire's work style, and their attitude. Get started with these questions:
• How does this person respond to feedback?
• How do they react under pressure?
• What are their strengths and weaknesses?
• Would you recommend them for this position?
Make your selection
Using the information you've gathered in the interview process, you can now make the best hiring decisions for your team. Keep in mind your company's culture and make a final assessment based on the potential hire's fit within your organization. Now is the stage to discuss the offer contingencies such as a background check, drug test, or physical exam.
Contact all applicants
In general, be kind and courteous to candidates who don't meet your needs. They may turn into good hires in the future once they've gained more experience and they may be great customers between now and then. For those who weren't selected for an interview, draft a simple email letting them know the position was filled and that you wish them well in their job hunt. For those candidates that did have interviews, it's a best practice to let them know your hiring decision with a phone call.
You want to tie up loose ends with your other applicants who were not chosen because failure to follow up with people who've invested their time with your company can negatively affect your business. Those candidates that don't hear anything after they've put their hopes on the line for your position will likely view this negatively and may even share their experience with others.
Other Resources
BUSINESS
Economic Impact Scam Awareness