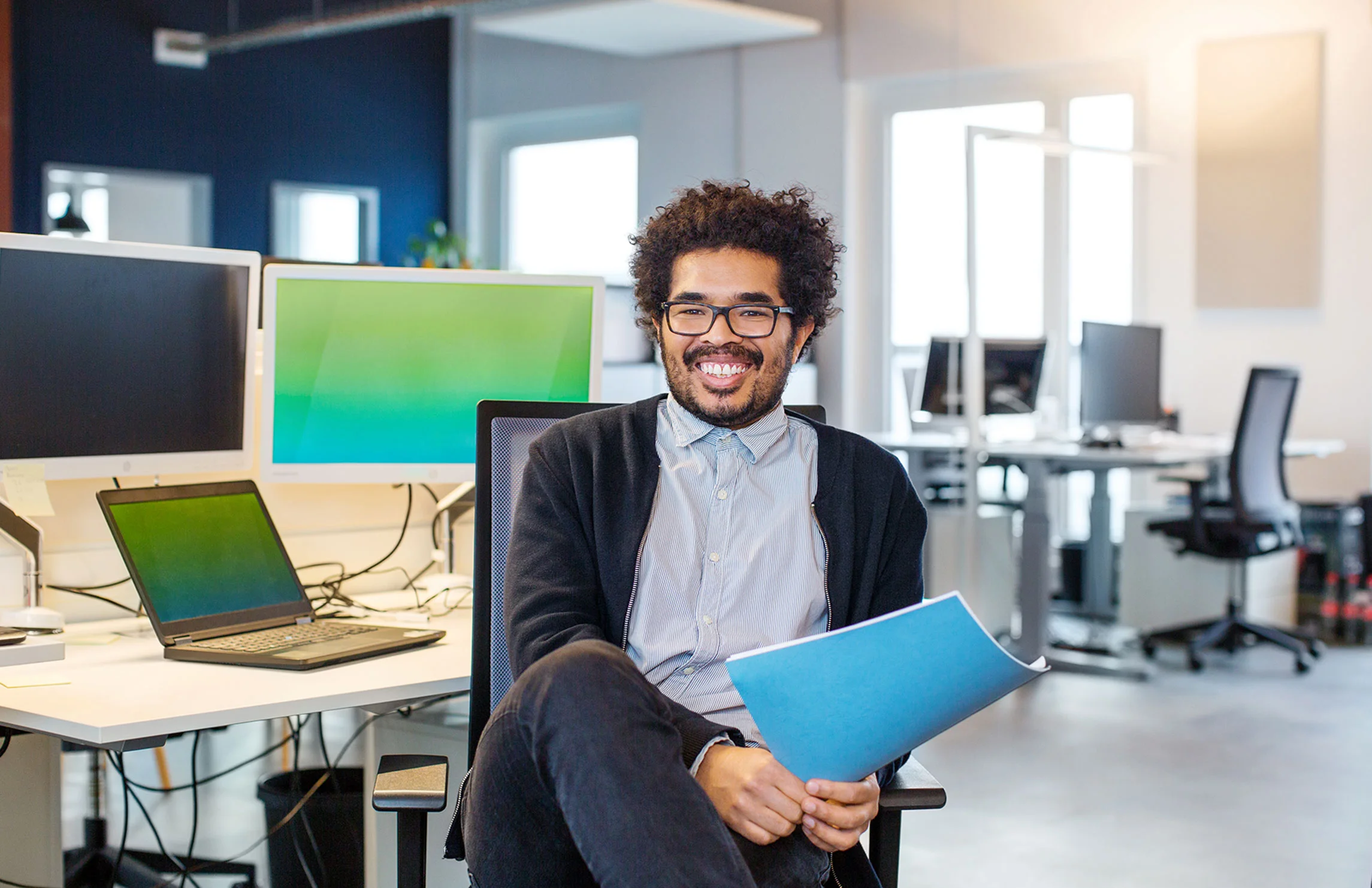 BUSINESS
Deluxe Digital HR Experience
How to Retain and Attract Employees with a Digital HR Experience
The virtual workforce is here to stay. In fact, Upwork's Future Workforce Pulse Report estimates that by 2025, approximately 36.2 million Americans will work remotely. Companies across the United States, and the world, have learned the importance of effective virtual support for their remote employees. You've handled it all—meetings, tech support, work, events—all virtually for more than a year, so how do you combat Zoom fatigue and offer new employees the best experience? Imagine being a new employee: You're meeting your co-workers online and trying to make connections within your new organization, all without the aid of in-person experiences and bonding. The onboarding process is very important when it comes to employee retention. According to human resource and compliance services platform, Mineral, 69% of employees who undergo effective onboarding are more likely to stay with an employer for at least three years. By bringing in new employees and fostering a positive workplace environment from the start, you give your employees more incentive to stay with your company, which saves you money and time in the long run. Prudential's March 2021 Pulse of the American Worker Survey found that one in every four workers expects to change jobs post-pandemic as they look for increased flexibility from their employers. As an HR professional, the idea of replacing 25% of your current workforce can be daunting—especially with the costs to hire and train new employees becoming more expensive. So, what can you do to keep your top talent and attract even more great employees to your team?
1. Offer the flexibility of remote work if you can.
It doesn't have to be 100% remote, but allow your employees to take advantage of working from home when you do eventually return to the office. Flexible work schedules and the option to skip the commute on rainy days will keep your employees much happier. Over half of those workers in the Prudential survey reported that they want their ideal future workplace to be hybrid of in office, working from home and schedule flexibility. Managing flexible work schedules and time off requests used to mean piles of paperwork and endless spreadsheets. Now with the help of technology and an automated HR information system, you can customize employee time tracking by automatically calculating PTO, holiday hours, or overtime all in one convenient, digital interface.
2. Recognize the employee costs of coming into the office.
Gas, wear and tear on cars, public transportation fees, traffic, daycare expenses, and on-the-go meals all add up as a cost to employees. Those employed during the quarantine have experienced the difference between paying for those items and not paying. With the requirement to be back in the office, many employees are looking for jobs that pay more to return to the office as they start incurring those expenses again.
3. Reset any negative impressions of remote work within your management team.
The old argument that employees won't work as hard from home has been proven false. According to a Bloomberg April 2021 article, working from home has boosted productivity in the U.S. by 5%. Make sure your employees feel valued and know they are trusted to get their work done. Acknowledging the challenges of working from home goes a long way, as does supporting remote employees the same way you would the in-person staff. Is it too early to say working every day from the office is a relic of the past? Take hints from the Prudential survey, where 42% of current remote workers will start looking for a new job if their current positions don't offer some flexibility.
4. Work on your company culture.
Hiring employees virtually gives your company a unique opportunity to rethink how you help your employees feel connected to your company and stay with you for the long-term. Perhaps start by re-evaluating your dress code! While pajamas may not be included, a more relaxed dress code is expected for a virtual workforce. Here are some key questions to ask to assess your company's current culture:
•Do your employees feel that they belong and are valued?
•Are employees recognized for their work?
•Do you celebrate birthdays and work anniversaries?
•Do you provide benefits that allow for work-life balance?
•Are you doing what you can to help employees secure financial wellness and save for their future?
5. Make sure you nail down your virtual experience.
Gone are the days when every part of your business had to be handled in-person or on paper. Small businesses can now invest in tools such as digital employee onboarding, workflows, task management, and other activities. Take the headache out of hiring with a completely digital workflow and automate your onboarding process. Using a fully digital experience, you can create new-hire checklists and workflows, get e-signatures, and securely manage employee documents all in one place. Best of all, the digital experience you provide for your employees isn't just for onboarding. Whatever forms, policy change announcements and compliance updates may come up throughout your year, all your required HR forms are updated and stored in the same place and feature the same seamless, automated process. With a cloud-based solution, you can track each document's completion status and avoid countless follow-up calls. Whether it's offering new technology like Zoom or Microsoft Teams, easy-to-use experiences help workers be more productive. With HR Solutions powered by Deluxe, there's an entire self-service library of information, carefully researched and sourced from certified HR professionals, and tools to set up your company for success. No more googling endless HR answers or wondering if your sources are even legitimate! You'll free up valuable time to connect and build relationships with your new and existing employees.
6. Promote new learning opportunities.
Many workers have taken the opportunity to learn new career skills during the pandemic. In their March 2021 survey, 80% of Prudential's employees seeking new employment are doing so because they are concerned about their career growth opportunities, and 72% are re-evaluating their skill sets. What are you doing to help your employees grow, build new skill sets, and develop their careers? With the emergence of online learning forums such as LinkedIn Learning, Massive Open Online Courses (MOOCs), and webinars becoming more prevalent and affordable, there is no excuse not to explore these options to advance employee career paths. After all, it benefits your company too as companies that provide online learning courses have reported an average increase of 42% in revenue. As we continue moving past the COVID-19 pandemic, the way we support, attract, and retain our employees will continue to shift. Larger organizations, like Facebook and Google, have announced hybrid workplace models after noting the shift in employee expectations. As you compete with other companies for new talent, what do you plan to do to meet these expectations? Whether your office returns to work in a hybrid schedule, or you're looking for an opportunity to let your team work from home, working life is expected to shift to create a more relaxed work-life balance. Continuing the virtual conversation is one of those areas where technology has advanced to provide more opportunities, and we must advance our work policies to match these changes. When it comes to long-term employee retention and attracting new talent, relationship building and a flexible, digital onboarding experience are keys to your success.
Other Resources
BUSINESS
Deluxe Hiring and Retention Guide